>> Thursday, June 18, 2009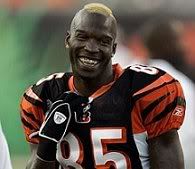 I only became a Cincinnati Bengals fan while attending the University of Kentucky from 2000-2004. It seemed every Sunday the only team my college roommates and I were able to watch were the Bengals. They seemed to be on every Lexington football channel avaiable. So I said if you can't beat'em, join'em. One reason I became a fan is because they were the only team on television Sunday in and Sunday out, and, of course, the other reason is I just flat out felt sorry for them. During my college years they were needless to say less than stellar. Then 2005 came and went showcasing a playoff birth. Last season couldn't be over quick enough after the Bengals went 4-11.
But after
Chad Ocho Cinco's
Thursday statements guaranteeing the Bengals will return to the playoffs, I cannot wait for the 2009 season. I am just glad to know I will finally be able to enjoy a season following a 4 year drought. Ocho-Cinco's predictions show he at least seems to be back to his oldself, which is something I always look forward too.