>> Sunday, September 13, 2009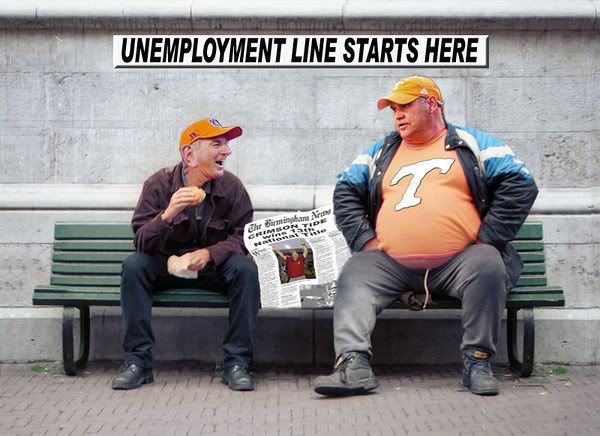 Well, what appeared on paper to be a rather tame weekend of college football escalated and turned out to be a rather enjoyable Saturday (and Friday if you were one of the lucky few to watch Colorado's ineptitude against a terrible Toledo squad. Seriously, how can you be that bad!). So, once again, here are this playmaker's observations from the weekend.

Well, Tennessee, it's good to see that "you're back!" After your shellacking of WKU, the VOL nation was running amuck among message boards across the country claiming their dominance. Well, congrats on losing to one of the worst teams the Pac-10 has to offer this season. I think Fat Phil could have put forth a better effort than Lane today.

Glad to see Charlie Weiss attempted to pull some plays out of his front butt and blew a possible W against Michigan. Poor Charlie! I think its time he accepts his true calling as a manager of Pal's Drive Thru and lets someone else attempt the Notre Dame reclamation project. On a side note, its a shame that Uncle Lou's national championship pick falls to the wayside after week 2!

Tim Tebow is pretty good. Ok, he's really, really good.

Mike Gundy...whom is famous for this video..



..apparently lacked that same fire in his pre-game speech for OSU-Houston on Saturday. The defense got gashed worse than Pam Anderson's va-jay-jay following the VMAs, and once again proved that the Big 12 will struggle to win a national championship until they instill some form of defensive will within their conference.

The Ol' Ball Coach is still struggling to garner that marquee win down in Columbia. One has to wonder how much longer Spurrier will deal with this losing before he decides its time to wear a visor that says Titlelist 24-7, instead of one that represents the Cocks.

Who wouldn't want to play for Pete Carroll? Not only does he provide you with rent money, but he may be the most in-touch 50+ year old coach in the business. With that, I say congrats to Mr. Carroll and the Trojans for putting an early L in the column for the slow, white-boys from Columbus. Hopefully, we don't have to hear their name mentioned with the BCS championship anymore this season.

Is there an uglier uniform in football than this atrocity?


Good god....shit brown and baby poop yellow are not a good combination.

One last thing....is there a team who wastes more talent than the Clemson Tigers? Seriously, they're stacked with 4 and 5 star recruits throughout their roster, but it never seems to translate to the field. I feel for my buddy Wesley and his undying passion for a program that is on par with the Oakland Raiders at developing talent.

Time to go watch Matt Forte rack up some fantasy points for me...be back tomorrow with some NFL thoughts and the terribleness that is my Washington Redskins.