>> Sunday, October 18, 2009


There are times in a man's life when some things are much more important than giving you a sarcastic opinion filled full of bullshit. Recently, not having a heart attack and getting my personal life in order have been a little more important than blogging on a consistent basis. However, I'm pulling my best Mark Morrison impersonation and reentering the game a rejuvenated blogger with a willingness to divulge more time into The PMB.

However, I don't know if the same can be said for my fellow bloggers, Kris and Gary. Kris may still make an occasional appearance, but it appears Gary will no longer be stopping by to give us his weekly diatribes on turf toe and/or the process of being a chubby individual.

So, if you've still been checking back on an occasional basis and our hits #'s seem to think that you have been...thanks for sticking it out during this town time.

Now onto the Sunday thoughts and rants involving college football...and maybe some Charlie Weis humor.

-As a Kentucky Alum its always great to see our team pull out that rare road win. This weekend turned out to be one of the greatest in a long time for Kentucky athletics with Calipari and company opening up with Big Blue Madness and UK knocking off the Auburn Fighting Cheezdiks down in Alabama for the first victory over the War Eagles since 1966. Congrats to the Wildcats!

-The SEC continues to show that it plays for the money on a weekly basis. The absolute atrocity that occurred down in Gainesville, Florida this weekend was a disgrace to college football and a game that is supposed to be decided "by the players." Florida was gift-wrapped a win against Bobby Petrino's crew and is still headed for another SEC championship game appearance. However, don't think the sub-par performance wasn't noticed, because the Crimson Tide is now sitting pretty at #1 in the coaches poll!

-The curse of Charlie Weis and his FUPA continues to dominate action up in South Bend. Seriously, Charlie when are you going to win a big game? I'm going to have start referring to you as the poor man's version of Mark Mangino and I don't want to do that!

Seriously, who you guys got in a male beauty pageant?

Charlie dressed in his ballerina costume...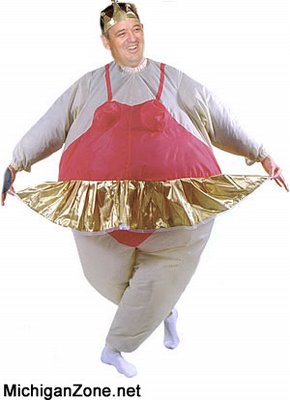 or Mark Mangino eating some french fries?



I still think Charlie has a much more intimidating FUPA.

Ok, Ok...back on to normal things.

-Who is on the Iowa bandwagon? Nobody....ok, just making sure.

-I've always questioned just how much Jim Calhoun had to pay a player to come to ghetto ass Stoors, Connecticut and now I'm really going to begin questioning his antics. I mean...on what campus in America does a damn football player get STABBED to death. Well, thats exactly what happened on the lovely UCONN campus this weekend. RIP Jasper Howard.

I'll be back with more later and the return of the Chubby of the day!